>

Contact BLyacht Shipyard
Contact BLyacht Shipyard
BLyacht Shipyard
The shipyard is located at the Yacht Club of Quebec.
BLyacht Shipyard
1215 boul. Champlain
Quebec QC
Canada
G1K 0A2
Shipyard services : 418-681-5655 option #4
BOATYARD

Boatyard services for boat repair
Boatyard for yachts and commercial boats in Quebec
Headed by François Lemelin, the Boulet Lemelin boatyard offers the most comprehensive services on the St. Lawrence River. The facility located at the Yacht Club de Québec is easily accessible to navigators.
Boat owners have access to maintenance work, urgent repairs, restoration services and the maintenance or storage of pleasure craft. Our 30,000 lb capacity hydraulic trailer and travel-lift can accommodate most pleasure and commercial crafts.
Our boatyard has garnered an enviable reputation in Eastern Canada and elsewhere in America, owing to the quality of the work undertaken by our team of professionals. Several boats restored at our boatyard are the pride and joy of navigators from Québec, Ontario and the Maritimes.
Our consulting and project management services allow us to offer customers turnkey projects that meet specified schedules and budget forecasts.
New installations of Boulet Lemelin yacht's Boat Yard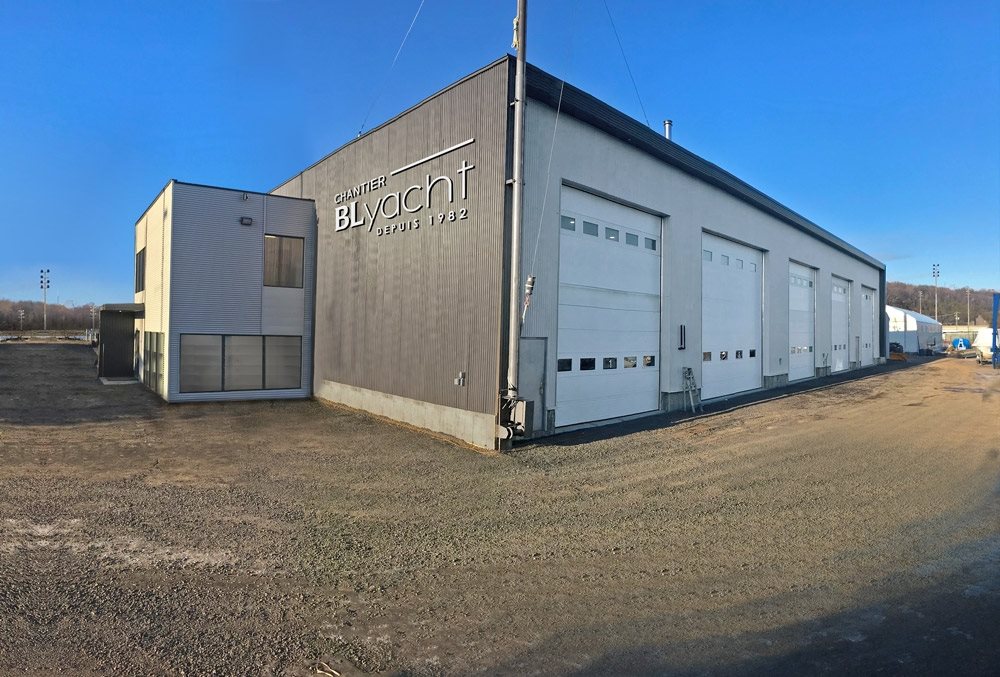 New installations of Boulet Lemelin yacht's Boat Yard

It is with pride that Boulet Lemelin Yacht announces the opening of its new boatyard. Still located at the Yacht Club de Québec, the shipyard remains easily accessible to Saint-Laurent sailors.

The new 8,800 square foot facilities at the cutting edge of the nautical industry will allow its experienced team to carry out maintenance work, urgent boat repairs, renovation projects or the storage of boats. of pleasure. Our hydraulic trailers and the Travel-lift can accommodate most pleasure or commercial boats.

Since 1982, our shipyard has acquired an enviable reputation throughout Eastern Canada and elsewhere in America, due to the quality of the work accomplished by our team of professionals. Several boats renovated in our workshops are the pride of sailors from Quebec, Ontario and the Maritimes.

Our consulting and project management service, supervised by Mr. François Lemelin, allows us to offer our clients turnkey projects on time and on budget.

It is with pleasure that we invite you to come and discuss your nautical renovation projects with us.
Some Projets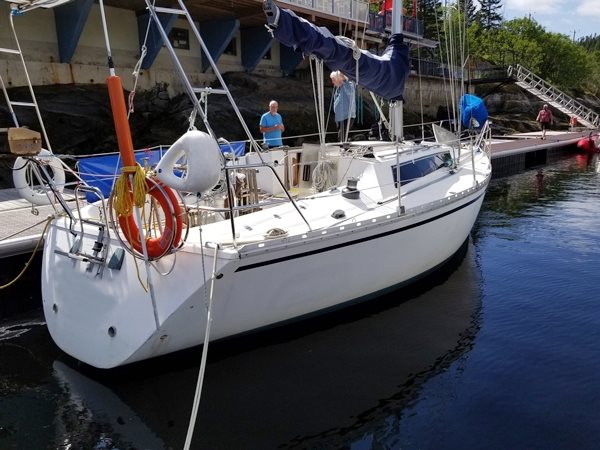 A sailing school asked Boulet Lemelin yacht to renovate its cruising sailboat, which is over 30 years old.


More than a cosmetic renovation, some laminates of the deck and the hull had to be repaired because they were damaged by water infiltration. Different jobs such as cabinetry were among the tasks to be performed.

This restoration will prove to be advantageous for the sailing school as this boat met their needs well and this restoration was much less expensive than replacing the boat. A refurbishment that will ensure years of safe navigation.

Conversion of a 24 ″ Zodiac rigid hull excursion boat into a passenger transport boat.

A commercial customer called on our shipyard for the complete outfitting of this rigid hull boat, a 24 'Zodiac, to meet their need as an excursion boat operator. The boat had to meet Transport Canada standards for passengers

After sea trials and certification to Canadian transport standards, we handed over the boat turnkey to our operating client.
Ongoing renovations of a classic Swedish boat from the 1970s.


We refurbish live and dead works, which includes osmosis protection and an "Awlgrip" finish. Part of the delicate job is to laminate sections of the water seepage damaged deck that are in balsa fiber sandwich and replace the teak deck. The set will be completed with a finished two-component Awlgrip Also on the program: the re-engine of an outboard by a Diesel engine.

Still work for our specialist technicians, but the results will be spectacular!

To be continued!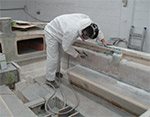 Our services
We offer a comprehensive evaluation and project planning service for sailboats and motorboats.Look to our experts for proper and accurate advice on renovating your boat or planning the purchase of a new one.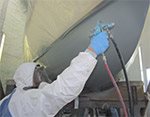 Anti-osmosis Treatment
We have unparalleled expertise in anti-osmosis treatment.
We use only superior quality epoxy resins and materials in all our repairs. We also offer preventive treatment using Interprotect from Interlux Yachtpaint.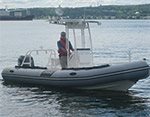 Inflatables
Our boatyard is an authorized Zodiac and Hurricane service center. We also repair other well-known brand names.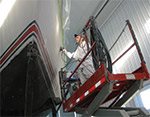 Paint Shop
We have developed exceptional expertise using the Awlgrip paint process, renowned for its durability and high-gloss finish.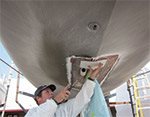 Fiberglass Repairs
We undertake all kinds of fiberglass repair work, from structural repairs to delamination, water infiltration and modifications. We also install bow thrusters.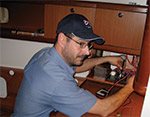 Electricity and Electronics
As specialists in computerized navigation system integration, we can also install and/or refurbish your electronic and electrical equipment.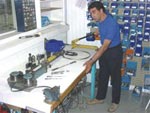 Superstructure and Deck Equipment
As specialists in boat superstructures, we install, design and assemble all deck equipment, and we can replace aging or damaged rigging.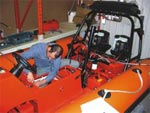 Engine Mecanics
Our boatyard is an authorized Yamaha service center. We maintain and repair all Yamaha outboard motors, as well as other well-known brands.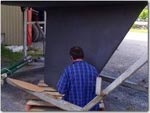 Water Draught
How many times, these past few years, has the draft of your sailboat simply thwarted your sailing plans? You wanted to sail Lake Champlain but the Richelieu River isn't deep enough. You wanted to anchor in that little bay you just discovered but the water depth was insufficient. You are tired of running aground in your marina? You are now thinking of getting a smaller boat in order to reduce your draft?